Real estate agents in Rotterdam
On this page we provide you with the top-10 of the best real estate agents in Rotterdam. This list is based on actual selling numbers, speed, reviews and our own experience with agents in selling property in Rotterdam.
There 201 estate agents active on the Rotterdam housing market
The average commission of agents in Rotterdam is 1,0%
For your information: I am a 27 year old Dutchie myself with a lot of expat friends.
I share articles related to the Dutch real estate market, because I hate that expats are being exploited by my fellow country men, especially in the housing market.
Further down this page, you will find some information on what we do (Mijn Verkoopmakelaar) and how that could be of use during this selling process. 
You might come across some medium stuctured sentences. Let's say, my knowledge on the Dutch real estate market is far better than my English (feel free to send an e-mail to info@mijnverkoopmakelaar.nl if the error is too big to ignore).
Let's get started.
This is the top-10 estate agents in Rotterdam for selling a house
This list is composed out of all the 51 brokers active in Rotterdam. The agents are active in the following neighbourhoods: Stadscentrum, Delfshaven, Overschie, Rotterdam-Noord, Hillegersberg-Schiebroek, Kralingen-Crooswijk, Feijenoord, IJsselmonde en Charlois.
Van Herk Makelaardij Rotterdam
Lauwaars NVM Makelaars
Kettner Makelaardij
Van Kleef Makelaars Rotterdam
Ooms Makelaars Rotterdam
Blijdorp Makelaardij
Stad&Land NVM Makelaars
Lokkebol Makelaardij
Voorberg NVM Makelaars
De Witte Garantie Makelaars
Selecting a local estate agency in Rotterdam
If you are planning to sell your property located in the Netherlands, we can advice you on what estate agents won't charge you those exploitative expat-fees, but local tarifs.
You can fill in your postal code on the end of the page and answer the follow-up questions.
The agents in the area will study your property and leave you a proposal. They know they are in competition with other agents, so they will makes sure their fee is competitive.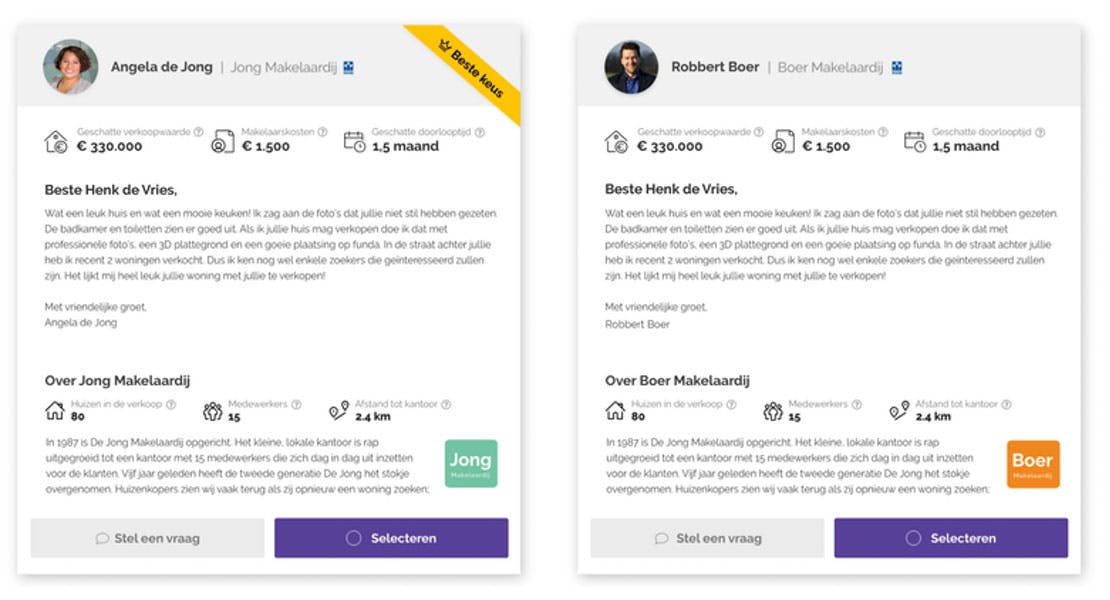 We keep track of their performance, so that you are ensured of a good outcome. And will check-in with you.
Long story short:
You get

 

multiple offers

 

of agents in your area
We have

 

curated the agents

 

based on their previous results
Using the service is

 

free

 

for you (agents share a small part their fee)
We keep your

 

contact details shielded, so you don't get annoying calls
Fill in your postal code below
If you experience any issues (language for example) using the platform, feel free to contact us! We are here to help you in English with a Dutch accent ;).
Fast & Easy
Impartial
No obligations
Selling property with real estate agencies in Rotterdam
 Van Herk Makelaardij Rotterdam

Van Herk Makelaardij is part of the Van Herk Group. Van Herk is present in almost all the cities in the greater Rotterdam area. The organisation is number 7 on the list of most selling estate agents in the Netherlands. If you are planning to sell an appartment in Rotterdam, you should contact Nicole van Emmerik.
---
Lauwaars NVM Makelaars

The Lauwaars brokerage started in 1982. At this moment leadership is provided by Ernst Klompé, Markus van der Werf en Eva van der Lugt. They are supported by 2 other employees. This 5-headed team sells housen in Rotterdam and the greater Rotterdam region.
---
Kettner Makelaardij

Back in 1980 Kettner became active in Rotterdam. The broker owner of this realtor is Lex Kettner. Together with 6 colleagues they help people with selling, buying and valuations. This estate agent is also active in Schiedam, Capellen aan de IJssel and Krimpen aan de IJssel.
---
Van Kleef NVM Makelaars Rotterdam

Van Kleef NVM Makelaars is founded in 2010 by Dimitri van Kleef. That was the hardest period for real estate agents in years. Because this was the year the financial crisis hit the Netherlands. In 8 years Van Kleef grew to one of the best known realtors in Rotterdam. With a team of 5 Van Kleef is a good choice if you need to sell an appartment in Rotterdam quick.
---
Ooms Makelaars Rotterdam

This office in Rotterdam is 1 of the 8 locations of the Ooms Makelaars Group. The other locations are situated in the rest of the greater Rotterdam region. In Rotterdam Rogier Kroese is the estate agent you need to contact if you are selling a house or appartment in Rotterdam.
---
Blijdorp Makelaardij | Delfshaven Makelaardij

Michel Velickovic founded Blijdorp Makelaardij and Delfshaven Makelaardij. The 2 offices combined deserve a place in this list. Together with his wife Lisanne Velickovic-Klaver they help with buying and selling. 
---
Stad & Land NVM Makelaars

Stad & Land is an office with a history. In 1965 the firm is founded by the engineer A. Puper. His son, Rob Puper, is now responsible for the organisation. Since a couple of years the third generation made its entry in the company.
---
Lokkerbol Makelaardij

Antoine Lokkerbol started Lokkerbol Makelaardij in 1999. The realtor grew to a team of 9 estate agents focussing on selling property in Rotterdam.
---
Voorberg NVM Makelaars

Voorberg NVM Makelaars is being led by Max de la Court and Nicole Aanen. We have the most experience with Nicole. She is with the brokerage since 1999.
---
De Witte Garantiemakelaars

De Witte Garantiemakelaars sold over 160 dwellings last year. The estate agent is under leadership of Ferry Nefkens. Together with 4 colleagues, Ferry serves Rotterdam form the nearby dity of Vlaardingen.
---
Frequently asked questions about selling property in Rotterdam
How many estate agents are there in Rotterdam?

In Rotterdam there are 201 agents active. Not all these estate agents are actually located in Rotterdam. Some agents work from neighbouring cities.

What is the average commission in Rotterdam?

On average estate agents in Rotterdam take a 1.0% commission for selling your house or apartment. Prices differ per broker and property.

What does selling a house cost in Rotterdam?

In the Netherlands, as a seller, you only bare the costs of your selling agent. In Rotterdam that fee is on average EUR 4.800 (VAT included). There are no other costs due by the seller for selling a property.

The buyer pays for his buying agent and the buyer pays the notary for the settlement of the transfer of ownership.

Where can I find an estate agent in Rotterdam that doesn't treat me like an expat?

Here you can fill in your postal code. You compare pre-screened agents in Utrecht on their pricing, past results and their strategy for your property.